Account - How do I activate my account?
To create an account with us, please visit this link here: https://www.limitedrungames.com/account/register. Just follow those steps to register your email address and set a password.
If you have already placed an order with us using the email address you are registering, that order will automatically show in your order history when you log in.
Account - How do I reset my password for my LRG Account?
To begin, you must be logged out and viewing our homepage of our website (www.limitedrungames.com). At the top right corner of our homepage, there is a hyperlink next to the Shopping Cart link that reads "Log In". Please click the "Log In" link and it will display our login page. In the text field for where the Password is entered, there is a hyperlink that reads "Forgot your password?". Please click that link and follow the steps there to reset your password for your LRG Account.
Here is a screenshot for reference: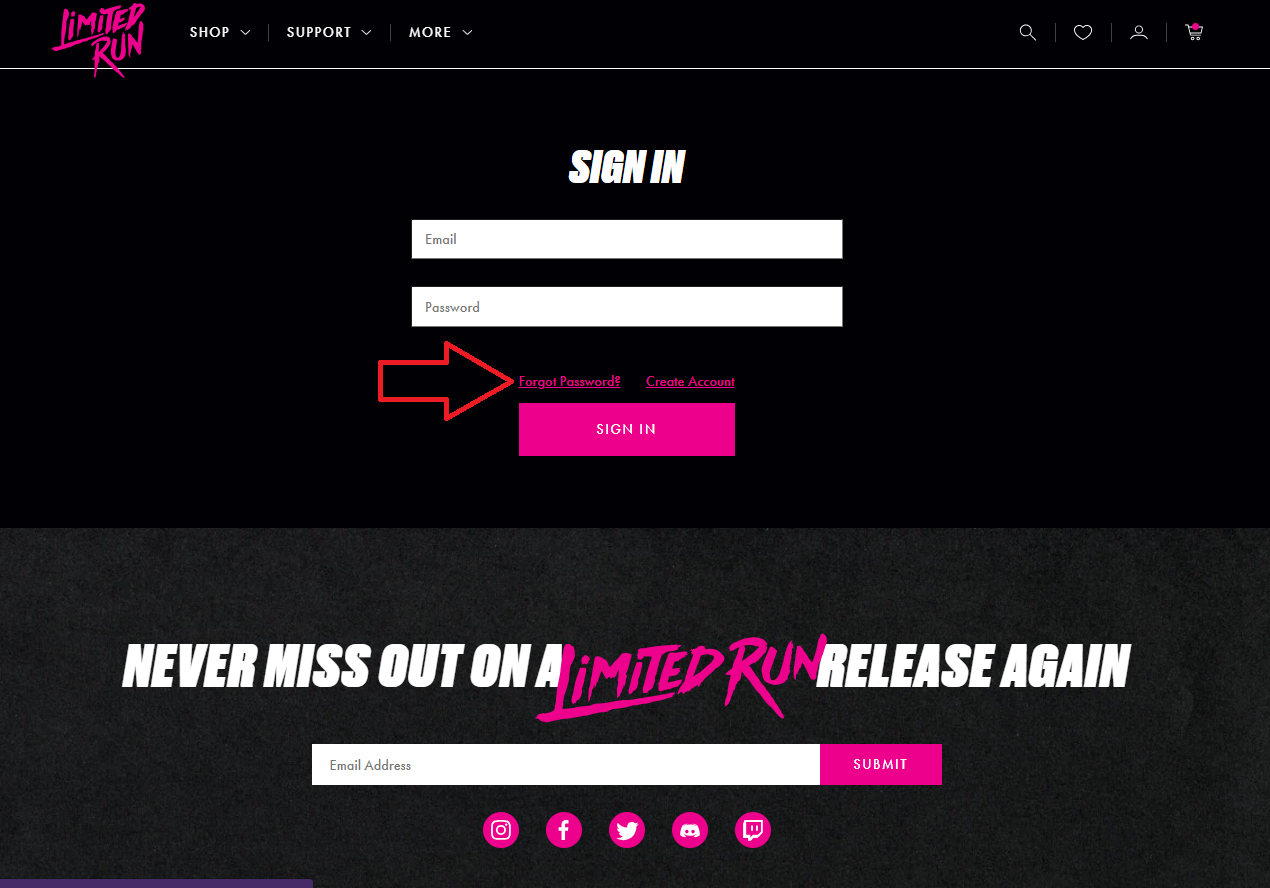 Account - What do I do if the address on my account/order is incorrect?
If the address on your account is incorrect, please complete all of the following steps:
1) Log in to your LRG Account
2) On the left-hand side of your account home page, under the Address labeled as "Default" is a hyperlink that reads "View All Addresses", click that link.
3) This will bring you to a page that shows all addresses saved to your account. There will be an address labeled as Default on this page as well and under that is an "Edit" button. Click "Edit".
4) In this section, you'll want to update your information to the correct address and click save.
​
Please note: Updating the address on your LRG Account will not automatically affect any previously placed orders.
If you have a previously placed order with an incorrect shipping address, please complete the following steps:
Log in to your LRG Account

Update your default address.

Open a support ticket to inform an Agent that your default address has been changed and which order(s) need to be updated to a new address.
Please note: We are unable to update the billing address for any orders. That information is locked by Shopify for security purposes and it cannot be edited. Since your orders are paid in full at the time they are placed, you do not need to worry about your order if the billing address is no longer accurate.
Account - How can I ensure my shipping address will display properly on a Shipping Label?
Please make sure the shipping address you provide to us fits the following requirements. If it is too long or in another language's written characters, it can result in problems with being able to ship your order.
First Name/Last Name/Company must contain 34 characters or less

Address Line 1 must contain 34 characters or less

Address Line 2 must contain 34 characters or less

City/State(Province)/Postal Code must contain 34 characters or less

All shipping addresses must be written with English characters.
Account - I have multiple accounts. Can you merge them?
Shopify treats each unique email address as its own account and this would include if the email address provided for an order has a typo. Separate accounts cannot be merged to have all orders under the same order history.